TAILWAGGERS HOLLYWOOD DAYCARE IS OPEN!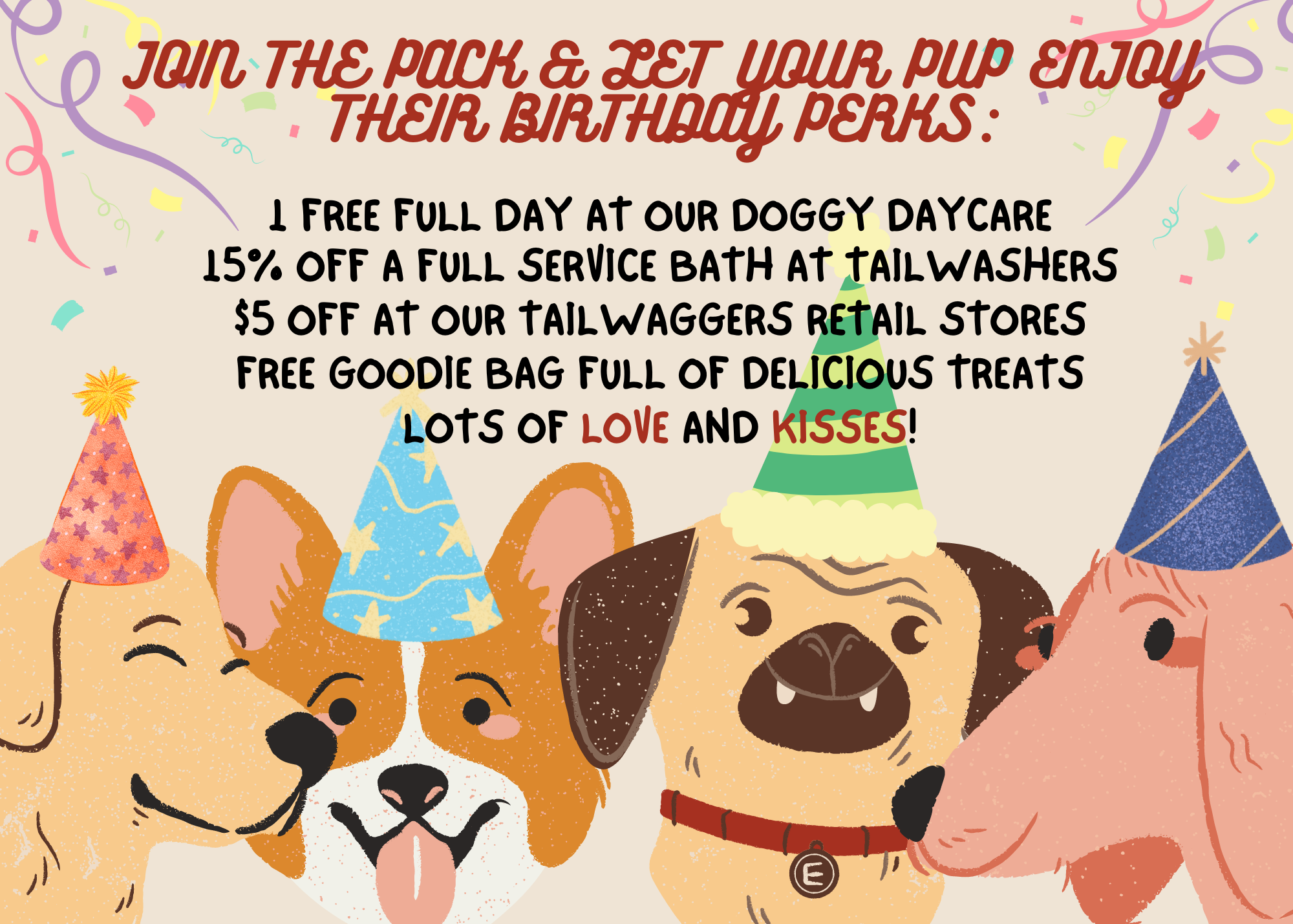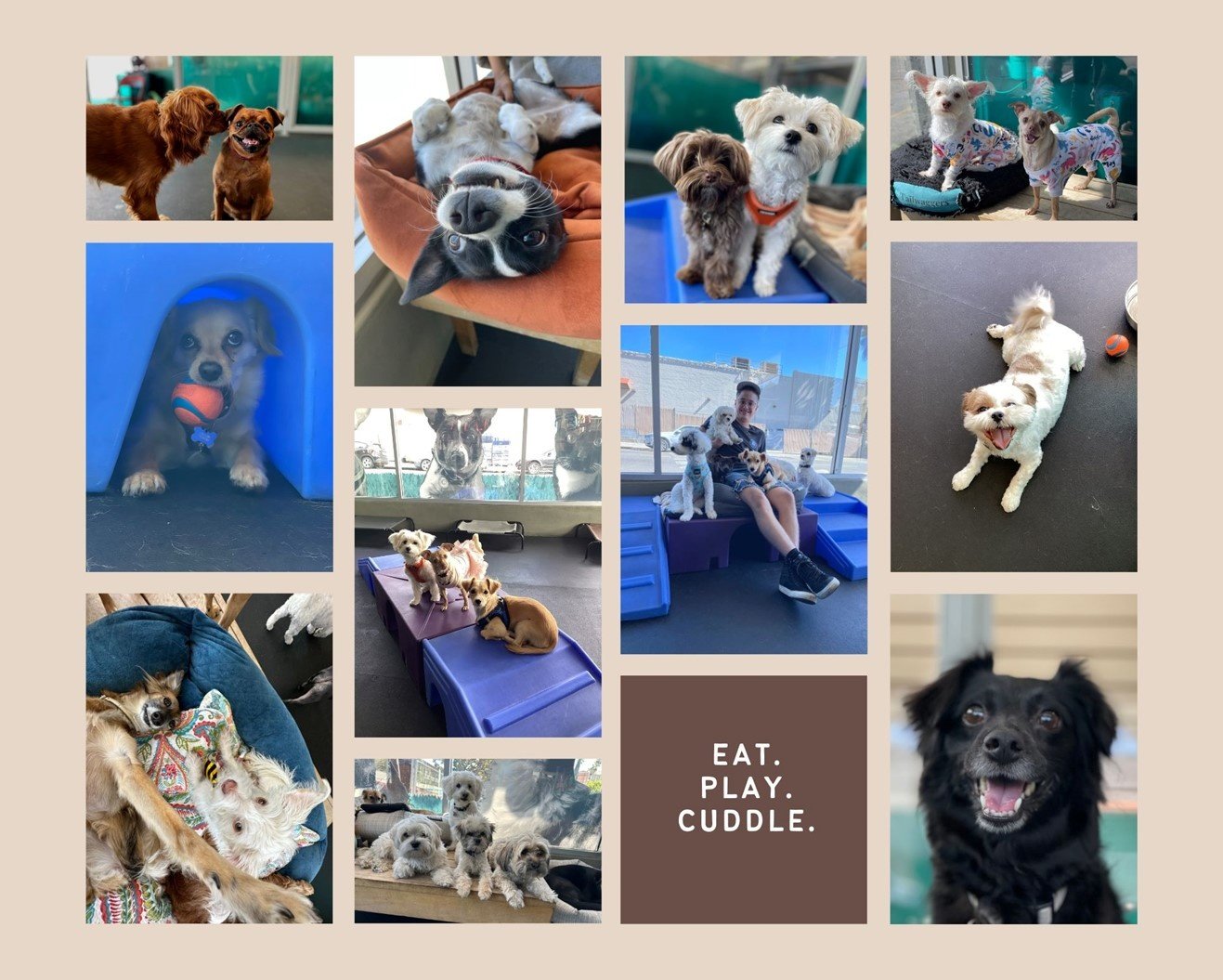 Tailwaggers Hollywood Dog Park is a licensed Doggy Daycare Center in the Heart of Hollywood, under the Historic Hollywood Sign.
We offer hourly, half day, and full day daycare services for dogs 35 lbs and under. There are also packages that can be purchased at affordable rates. While your pooch is enjoying the day with their friends, they can also have a spa day at our Grooming Salon. Please contact our Tailwasher's Salon at 323.464.9600 ext. 2 or click here for more information.
Benefits of Daycare:
Safe Socialization: Our daycare provides a safe and controlled environment for your dog to play with small breeds with different personalities. It may also help dogs that experience separation anxiety. Our daycare always has a team member on the floor watching over your pup for peace of mind!
Physical Exercise: Weekly or even daily daycare sessions will keep your dog active both physically and mentally! Daycare is extremely beneficial for pups that are overweight and get easily bored at home. Bring your pup so that our staff can play ball with them!
Routine: Just like children, dogs' benefit from having structure in their life. Without structure, a lot of pups can develop anxiety. Daycare can help with feedings and potty breaks so that your pup may continue their home routine while you are at work.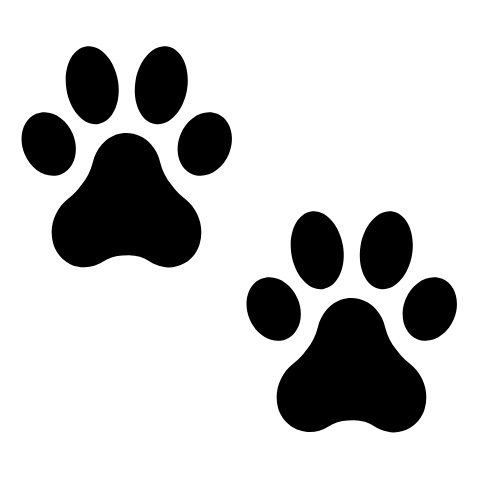 Thank you for your interest in our Park! Listed below are our requirements:
Dogs MUST BE 35 Pounds or Under
PROOF OF VACCINATIONS & SPAY/NEUTER
RABIES
BORDETELLA
DHPP (Distemper, Hepatitis, Parvovirus, parainfluenza)
CANINE INFLUENZA
LEPTOSPIROSIS
*We also accept medical letters with approval of a licensed veterinarian in place of certain vaccines. We also accept titer testing.
SPAY/NEUTER IF OVER 7 MONTHS
MONTHLY FLEA TREATMENT
ANNUAL FECAL TEST
COMPLETED PAPERWORK
DOG PARK APPLICATION
EVALUATION SHEET
TAILWAGGERS PARK SERVICE AGREEMENT
EVALUATION
You may schedule your evaluation in person or by calling (323) 464-9600 Option 2. Appointments typically take between 30 – 45 minutes and we ask that you remain present during the evaluation and bring a physical copy of your dog's vaccines. Thank you!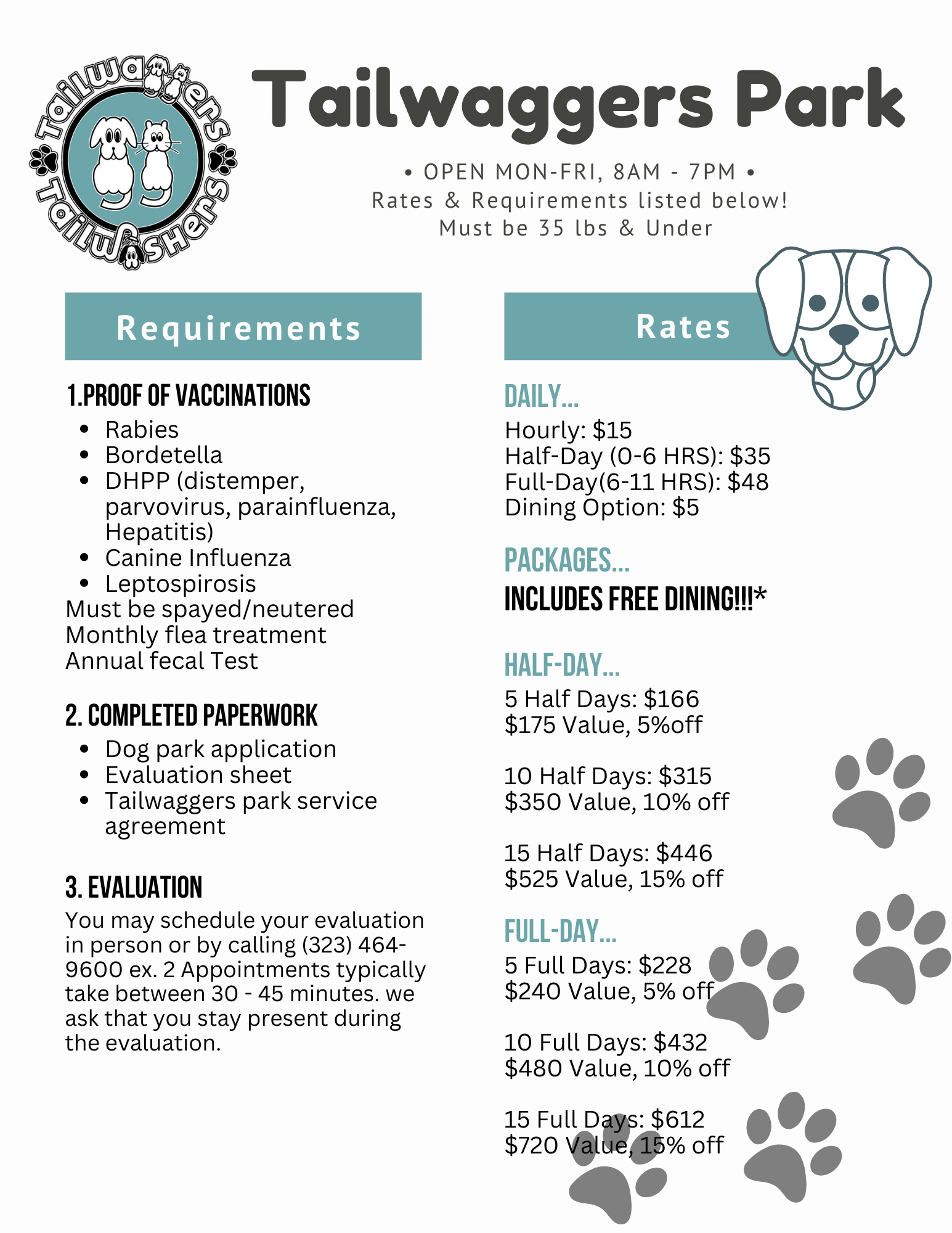 We look forward to meeting your pup!